Restore Your Teeth and Smile With Dental Crowns
Restore Your Teeth and Smile With Dental Crowns
Written By West Georgia Family Dentistry on July 28, 2021
---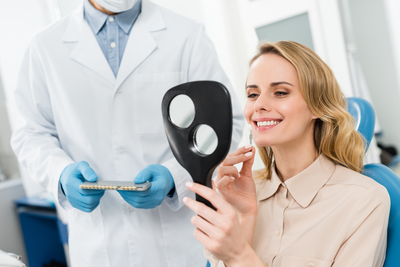 We at West Georgia Family Dentistry strive to help all our patients love their smiles. Sometimes that means more than your regularly scheduled cleaning. For those who have damaged or decayed teeth, dental crowns are a convenient and permanent way to restore your smile.
All About Dental Crowns
In many tooth restoration cases, we use composite fillings. However, when patients don't have enough tooth structure to support a filling, getting a crown is often the best option.
Dental crowns are permanent prosthetics that cover problem teeth, restoring it to its natural shape and size. It's permanent and fits right over your original tooth, which strengthens it and improves your smile.
Crowns have the advantages of holding cracked or damaged teeth together, can restore fractured or cracked teeth, can restore dental implants, improve your smile, and even protect teeth after a root canal. Crowns are durable and strong, lasting anywhere between 5 and 15 years.
Fitting a crown generally requires at least two visits to the dentist's office. We'll take 3D scans and impressions of your teeth so we can shape the best crown possible. Dental X-rays also help us spot any other health issues you might have. The most common are infections and tooth decay, meaning a root canal.
Your affected teeth will be filed down and reshaped to have a crown fitted over it. We provide a temporary crown while your permanent crown is made. Once your crown is ready, we'll cement it in place. Regular dental cleaning will preserve your crown for many years.
Straighten Out Your Smile in Douglasville
We are a caring, friendly team of dental professionals committed to providing a comfortable dental experience. At West Georgia Family Dentistry, you are important to us. Knowing each individual well helps us develop a personal, customized treatment plan for each member of your family.
We take time to talk and answer questions. We explain procedures, what they will do for your smile and how much it will cost. We take the time to be gentle. Our friendly staff and relaxing environment will put you at ease.
Have questions or need to schedule an appointment? Call us at (770) 949-1680 or go online and fill out our contact form. We look forward to helping you love your smile.

Posted In: Dentist Dental Crowns