The Benefits of Dental Implants
The Benefits of Dental Implants
Written By West Georgia Family Dentistry on October 2, 2021
---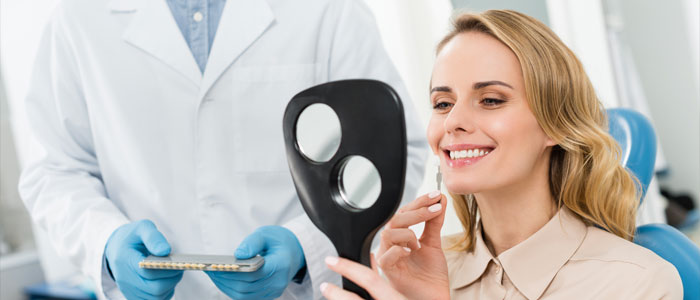 Do you know that you can have your lost tooth replaced with a natural-looking replacement that feels and functions like your own? Dental implants can replace a single tooth, multiple teeth, or the entire set of teeth.
Dental implants consist of a titanium screw implanted into the jawbone that integrates with the bone over time. The screw is shaped like a tooth root, with a natural-looking crown attached to the top to form the tooth area.
Types of Dental Implants
The goal of dental implants is to restore both function and appearance of your mouth. There are three options for teeth replacement: permanent dental bridges, detachable dental appliances (also known as dentures), and dental implants.
Determining which option is best depends on your lifestyle and which teeth need replacement. Recently, however, there has been a shift towards dental implants. This is due to the advantages that dental implants have over the other options and the features they offer.
In the past, two types of implants were available: endosteal and subperiosteal. Endosteal implants refer to implants that are inserted into the bone, whereas subperiosteal implants lay on top of the jawbone beneath the gum tissue. Subperiosteal implants are no longer used due to poor long-term results compared to endosteal implants.
Benefits of Dental Implants
Dental implants are a fantastic and cost-effective option to restore your smile and quality of life.
There are many benefits to dental implants, including:
A natural appearance
Prevention of future bone loss, especially if you have a full-mouth dental implant
Preservation of your jawbone density
Enhanced face structure and a beautiful smile
Recovery of 80-100% of your biting strength
Improved speech
Are Dental Implants Safe?
Your body is naturally engineered to fight off foreign objects that enter it. The titanium construction of dental implants allows them to merge with bone without being identified as a foreign body that activates your immune system. Moreover, because the titanium in the implants integrates with your jawbone, they won't slip, produce noise, or cause damage to the bone like fixed bridgework or dentures.
Dental implants are also impervious to deterioration, unlike traditional bridgework. They have a 90%-95% success rate and can be placed by experienced and licensed dentists at West Georgia Family Dentistry in Douglasville, GA.
Book an Appointment for Dental Implants in Douglasville
If you are considering dental implants, let the caring, friendly group of dental experts at West Georgia Family Dentistry help. Drs. Eric Leithner and Kylee Rider will take the time to answer all your questions and thoroughly discuss the entire process, what the implants will do for your smile, and how much they will cost.
When you're ready to learn more about your dental implant options, call us at (770) 949-1680 or book an appointment with us online to schedule a consultation.

Posted In: Dentist