The Dental Exam Process at West Georgia Family Dentistry
The Dental Exam Process at West Georgia Family Dentistry
Written By West Georgia Family Dentistry on May 28, 2021
---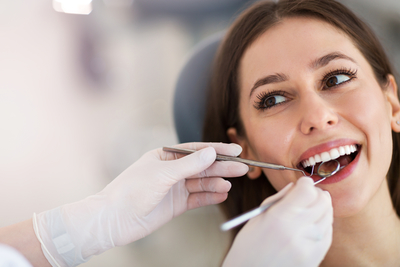 Our entire staff at West Georgia Family Dentistry strives to make our patients feel welcome, safe and comfortable in our office. Before we do any kind of dental work on you, you will undergo a thorough exam for your health and safety. We thoroughly explain procedures and answer all your questions as well.
The Dental Exam Process
Dentistry has come a long way over the years. Scientists have discovered more and more about what our mouth can tell us about the rest of our body. We've trained ourselves through continuing education on how to maximize the health benefits our dental work can provide. This has led to the need for a dental exam before you get any procedure, including a routine cleaning.
Exams start with both panoramic and bitewing x-rays or full mouth x-rays (FMX), which serve multiple purposes. At their core, they are used to spot changes in hard and soft tissue that the naked eye can't see. They can show cavities, wisdom teeth, bone loss and pathology. X-rays also reveal how pediatric teeth and jawbones are developing and if orthodontic treatment will be needed. These x-rays also help a dentist evaluate injuries to the face and mouth.
After x-rays we perform a cancer screening via extraoral and intraoral exams. We take a careful look at your neck and head, cheeks, lips, mouth floor, gums, and tongue. The dentist will look for lumps, sores or irregular tissue changes, including any discoloration. Any suspicious findings, such as lesions, and we may recommend a biopsy or refer you to an oral surgeon.
We then check for cavities, broken teeth, broken fillings, and periodontal health issues. These involve using an instrument to gently touch each tooth and the surrounding gums to check for signs of gingivitis, periodontal disease, and more. The sooner health issues are detected, the better your chances of recovering and healing.
Straighten Your Smile in Douglasville
We are a caring, friendly team of dental professionals committed to providing a comfortable dental experience. At West Georgia Family Dentistry, you are important to us. Knowing each individual well helps us develop a personal, customized treatment plan for each member of your family.
We take time to talk and answer questions. We explain procedures, what they will do for your smile and how much it will cost. We take the time to be gentle. Our friendly staff and relaxing environment will put you at ease.
Have questions or need to schedule an appointment? Call us at (770) 949-1680 or go online and fill out our contact form. We look forward to helping you love your smile.

Posted In: Dentist Dental Exam